The Sweet Spot: A Novel (Mass Market)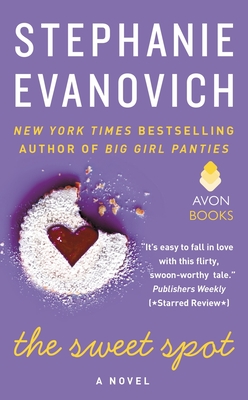 $7.99
Email or call for price.
Description
---
A sizzling story of everyone's favorite couple from amazing Stephanie Evanovich's New York Times bestseller Big Girl Panties: hunky professional baseball player Chase Walker and his sassy wife Amanda.
When pro baseball player Chase Walker first meets Amanda at her restaurant, it's love at first sight. While Amanda can't help noticing the superstar with the Greek-god-build, he doesn't have a chance of getting to first—or any other—base with her. A successful entrepreneur who's built her business from scratch, Amanda doesn't need a Prince Charming to sweep her off her feet. And a curvy girl who likes to cook and eat isn't interested in being around the catty, stick-thin herd of females chasing Chase and his teammates.
But Chase isn't about to strike out. A man who isn't interested in playing the field, he's a monogamist who wants an independent woman like Amanda. His hopes rally when she discovers that squeaky-clean Chase has a few sexy and very secret pre-game rituals that turn the smart, headstrong businesswoman on—and into his number one fan.
Then a tabloid discovers the truth and turns their spanking good fun into a late- night punchline. Is Amanda ready to let loose and swing for the fences? Or will the pressure of Chase's stardom force them to call it quits?
About the Author
---
Stephanie Evanovich began writing fiction while waiting for her cues during countless community theater projects. Now a full-time writer, she's an avid sports fan who holds a black belt in tae kwon do.
Praise For…
---
"It's easy to fall in love with this flirty, swoon-worthy tale . . . Evanovich entertains with plentiful humor and appeals to the reader's romantic side. Comedy, passion, and an irresistible couple make for a home run read." — Publishers Weekly (starred review)
"A sports-filled romance full of steamy sex scenes that will please Evanovich's fans." — Kirkus Reviews
"Rom-com with a kinky twist . . . Readers of Big Girl Panties will remember the couple and will love delving into their story." — Women's Health.com
"Evanovich's breezy style, witty dialogue, and likable characters make this a great summer read. Her fans will be thrilled she's given Chase and Amanda, who appeared as a married couple in Big Girl Panties, their own book." — Booklist