Skyward (The Skyward Series #1) (Hardcover)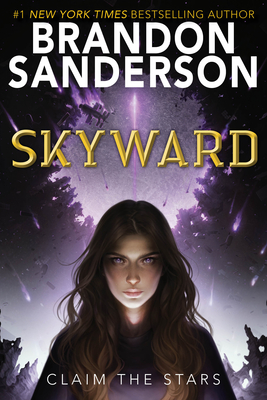 $19.99

Not in Store - Available for pick up in 1-3 days - Usually Ships in 1-5 Days
Other Books in Series
This is book number 1 in the The Skyward Series series.
Description
---
A NEW YORK TIMES BESTSELLER!

From Brandon Sanderson, the #1 New York Times bestselling author of the Reckoners series, Words of Radiance, and the internationally bestselling Mistborn series, comes the first book in an epic new series about a girl who dreams of becoming a pilot in a dangerous world at war for humanity's future.

Spensa's world has been under attack for decades. Now pilots are the heroes of what's left of the human race, and becoming one has always been Spensa's dream. Since she was a little girl, she has imagined soaring skyward and proving her bravery. But her fate is intertwined with her father's--a pilot himself who was killed years ago when he abruptly deserted his team, leaving Spensa's chances of attending flight school at slim to none.

No one will let Spensa forget what her father did, yet fate works in mysterious ways. Flight school might be a long shot, but she is determined to fly. And an accidental discovery in a long-forgotten cavern might just provide her with a way to claim the stars.

Praise for Skyward:
A Kirkus Reviews Best Book of the Year

"Startling revelations and stakes-raising implications...Sanderson plainly had a ball with this nonstop, highflying opener, and readers will too."--Kirkus Reviews, Starred Review

"With this action-packed trilogy opener, Sanderson offers up a resourceful, fearless heroine and a memorable cast...[and] as the pulse-pounding story intensifies and reveals its secrets, a cliffhanger ending sets things up for the next installment."--Publishers Weekly, Starred Review

"It is impossible to turn the pages fast enough."--Booklist

"Sanderson delivers a cinematic adventure that explores the defining aspects of the individual versus the society...[and] fans of [his] will not be disappointed."--SLJ

Praise for Brandon Sanderson's Reckoners series:
#1 New York Times Bestselling Series

"Another win for Sanderson . . . he's simply a brilliant writer. Period."--Patrick Rothfuss, author of the New York Times and USA Today bestseller The Name of the Wind

"Action-packed."--EW

"Compelling. . . . Sanderson uses plot twists that he teases enough for readers to pick up on to distract from the more dramatic reveals he has in store."--AV Club
About the Author
---
Brandon Sanderson is the author of the #1 New York Times bestselling Reckoners series: Steelheart, Firefight, and Calamity, and the e-original Mitosis; the New York Times bestsellers Skyward and its sequel Starsight; the internationally bestselling Mistborn trilogy; and the Stormlight Archive. He was chosen to complete Robert Jordan's The Wheel of Time series, an adaptation of which is coming to Amazon Prime Video in November 2021. His books have been published in more than thirty-five languages and have sold 22 million copies worldwide. Brandon lives and writes in Utah. To learn more about him and his books, visit him at brandonsanderson.com or follow @BrandSanderson on Twitter and Instagram.
Praise For…
---
Praise for Skyward:

A New York Times Bestseller
A Kirkus Reviews Best Book of the Year

"Reading this book is like standing inside a video game: all action and movement. Sanderson's aerial dogfights are so masterful."—Booklist

Praise for Brandon Sanderson's Reckoners series:

#1 New York Times Bestselling Series

"Another win for Sanderson . . . he's simply a brilliant writer. Period."—Patrick Rothfuss, author of the New York Times and USA Today bestseller The Name of the Wind

"Action-packed."—EW

"Compelling. . . . Sanderson uses plot twists that he teases enough for readers to pick up on to distract from the more dramatic reveals he has in store."—AV Club