Midlife Bites: Anyone Else Falling Apart, Or Is It Just Me? (Paperback)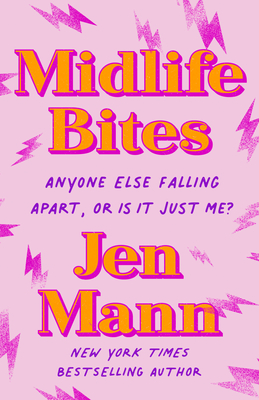 $17.00
Email or call for price.
Description
---
A smart, personal, darkly funny examination of what it's like to be a woman at the crossroads of a midlife crisis, from the New York Times bestselling author of People I Want to Punch in the Throat

"I inhaled this book in one sitting; it's a must-read for anyone over forty. This should become the gift all girlfriends give one another."—Zibby Owens, host of the award-winning podcast Moms Don't Have Time to Read Books

Jen Mann had what appeared to be the perfect life: a successful career as a bestselling author and award-winning blogger, a devoted husband, teenage kids who weren't total jerks, and a badass minivan. So imagine her surprise when, at forty-seven years old, a midlife crisis kicked her straight in the ladybits.

Midlife Bites offers Jen's trademark wit and honesty when it comes to important conversations and observations about women in midlife. Here, readers will be able to come together and find anecdotes and practical ideas to help navigate through this major point in their lives. For women who may feel isolated or overlooked, this collection of original essays offers valuable insights, takeaways, and, most important, a productive way forward. Jen shares her own story as well as advice and wisdom from the online community she built, tackling everything that bites about midlife, where nothing is off-limits: raging hormones; sex (after forty); finding your purpose; learning to make new friends (yes, even as a grown-up); moving out of your comfort zone; having conversations that count, no more small talk; and how to deal with rogue chin hairs (and other nuisances).

Jen Mann is leading the movement to create a new space where middle-aged women can share openly and honestly with one another. This no-BS collection of essays will help start the conversation and keep it going, because as women, we all have a right to be happy, fulfilled, and whole, no matter what stage of life.
About the Author
---
Jen Mann is best known for her wildly popular blog, People I Want to Punch in the Throat. She is the author of the New York Times bestseller People I Want to Punch in the Throat. She is also the editor of the New York Times bestselling I Just Want to Pee Alone series. She lives in Kansas with her husband and two children.
Praise For…
---
"One part instruction manual (or maybe destruction manual?), one part group therapy, and all kinds of hilarious, Midlife Bites made the prospect of hitting my mid-forties seem a lot more manageable and a lot less mystifying. Jen Mann is leading the midlife revolution, and I am so here for it!"—Sarah Knight, New York Times bestselling author of The Life-Changing Magic of Not Giving a F*ck

"Jen Mann does it again with Midlife Bites, proving that she's one of the most honest—and funniest—voices out there. Readers will laugh, cheer, and sometimes cringe at how perceptively she sums up the midlife experience. Buy this book for all your girlfriends—they'll thank you!"—Jen Lancaster, New York Times bestselling author of Welcome to the United States of Anxiety and Bitter Is the New Black

"If you've ever felt like you're screaming into the void alone, you're not. Jen Mann is there. Admittedly and masterfully out of her comfort zone, Jen comes at her midlife self with a wallop of self-introspection and vulnerability, thereby giving all of us permission to say the paralyzing quiet parts out LOUD. Every woman who reads this book will say thank you, Jen Mann, in between snorts and sniffles."—Faith Salie, author of Approval Junkie and panelist on NPR's Wait Wait…Don't Tell Me!

"Raw, hilarious, and liberating . . . Jen Mann has a way of showing us that despite our gray hair, soft middles, and boring marriages, we're actually entering the best part of our lives. It's good to know we're not alone."—Karen Alpert, New York Times bestselling author of I Heart My Little A-Holes

"Thank you, Jen Mann, for writing the manual on middle-age in the most authentic, relatable way ever. I inhaled this book in one sitting. Jen's writing is fresh, funny, fearless, and fantastic. Midlife Bites is more than a book. It's a movement, a must-read for anyone over forty. This should become the gift all girlfriends give one another. Thanks, Jen, for making me feel less alone, entertaining me, and telling it like it is. Preach!"—Zibby Owens, host of the award-winning podcast Moms Don't Have Time to Read Books

"A rollicking, free-flowing collection of joyful, fierce wisdom from Jen Mann, a writer known for not pulling any punches."—KJ Dell'Antonia, New York Times bestselling author of The Chicken Sisters