The Love Wager (Paperback)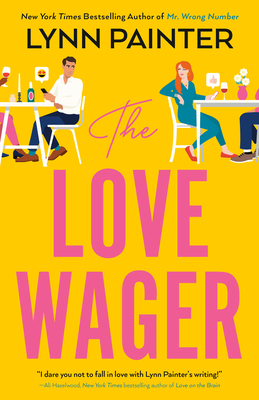 $17.00

Not in Store - Available for pick up in 1-3 days - Usually Ships in 1-5 Days
Description
---
Two people make a wager on who can find love first, not realizing what they should be betting on is each other, in this new romantic comedy by Lynn Painter, New York Times bestselling author of Mr. Wrong Number.

Hallie Piper is turning over a new leaf. After belly-crawling out of a hotel room (hello, rock bottom), she decides it's time to become a full-on adult. She gets a new apartment, a new haircut, and a new wardrobe, but when she logs onto the dating app that she has determined will find her new love, she sees none other than Jack, the guy whose room she snuck out of. 

After agreeing they are absolutely not interested in each other, Jack and Hallie realize they're each other's perfect wing-person in their searches for The One. They text each other about their dates, often scheduling them at the same restaurant so that if things don't go well, the two of them can get tacos afterward. 

Spoiler: they get a lot of tacos together. 

Discouraged by the lack of prospects, Jack and Hallie make a wager to see who can find true love first, but when they agree to be fake dates for a weekend wedding, all bets are off. As they pretend to be a couple, lines become blurred and they both struggle to remember why the other was a bad idea to begin with.
About the Author
---
Lynn Painter lives in Omaha, Nebraska, with her husband and pack of wild kids. She is a community columnist for the Omaha World-Herald, as well as a regular blogger for their parenting section. When she isn't reading or writing, she can be found eating her feelings and shotgunning cans of Red Bull.

Praise For…
---
"Painter follows up Mr. Wrong Number with an equally cute friends to lovers romance...Their equally filthy sense of humor makes their connection feel real and their game of constant one-upmanship is a lot of fun. Painter's fans won't be disappointed."—Publishers Weekly

"A fun, flirty, and timely read from Painter (Mr. Wrong Number), with likable characters to boot."—Library Journal

"The Love Wager lives up to Painter's hype. It's cute, funny, and endearingly romantic."—The Review Geek

"Honestly, this book was so much fun and I can't believe it took me this long to finally pick Lynn Painter. Her books are a hoot."—Culturess


"I had so much fun reading The Love Wager. It has the wonderful humor I've come to love from Painter's stories and I could feel the sparks fly between Jack and Hallie. It's a terrific romcom."—All About Romance

"Lynn Painter (Mr. Wrong Number) provides the perfect rom-com escape in The Love Wager, a trope-driven romance that will remind readers, as they laugh themselves to tears, why they love the genre."—Shelf Awareness