My Roommate Is a Vampire (Paperback)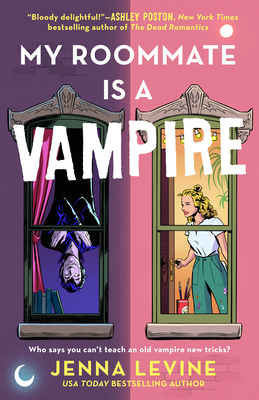 $17.00

Not in Store - Available for pick up in 1-3 days - Usually Ships in 1-5 Days
Staff Reviews
---
Hopeless Romantics Book Club pick for September. The Hopeless Romantics meets the third Thursday of every month at 6:30pm.
PLEASE NOTE: Due to an author event, the Hopeless Romantics Book Club will meet on Wednesday, September 20th at 6:30pm.
— From
Monarch Book Club Picks
September 2023 Indie Next List
---
"Clever, charming, steamy — all a reader could want from a paranormal romantic comedy. Part Kate & Leopold; part What We Do in the Shadows; and witty, warm prose that makes it feel refreshing. It sunk its teeth into me and I was a willing victim!"
— Sarah Jackson, The Book & Cover, Chattanooga, TN
Description
---
A USA TODAY BESTSELLER!

A September Indie Next Pick
One of Amazon's Best Romances of September
One of Apple's Best Books of September

True love is at stake in this charming, debut romantic comedy.

Cassie Greenberg loves being an artist, but it's a tough way to make a living. On the brink of eviction, she's desperate when she finds a too-good-to-be-true apartment in a beautiful Chicago neighborhood. Cassie knows there has to be a catch—only someone with a secret to hide would rent out a room for that price.

Of course, her new roommate Frederick J. Fitzwilliam is far from normal. He sleeps all day, is out at night on business, and talks like he walked out of a regency romance novel. He also leaves Cassie heart-melting notes around the apartment, cares about her art, and asks about her day. And he doesn't look half bad shirtless, on the rare occasions they're both home and awake. But when Cassie finds bags of blood in the fridge that definitely weren't there earlier, Frederick has to come clean...

Cassie's sexy new roommate is a vampire. And he has a proposition for her.
About the Author
---
By day, Jenna Levine works to increase access to affordable housing in the American South. By night, she writes romance novels where ridiculous things happen to beautiful people. When Jenna isn't writing she can usually be found crying over k-dramas, starting knitting projects she won't finish, or spending time with her family and small army of cats.
Praise For…
---
"My Roommate is a Vampire by Jenna Levine is like your favorite red wine—familiar, tasty, and will definitely have you kissing hot strange vampires by the end of the night. Bloody delightful!"—Ashley Poston, New York Times bestselling author of The Dead Romantics

"This debut romance by Jenna Levine is wonderfully weird and sexy as hell. The amount of care Frederick J. Fitzwilliam takes in figuring out what will get Cassie's blood pumping! (Not like that.) It's almost enough to make you want to scour Craigslist for your own potential boyfriend who'll be head over fangs for you. My Roommate is a Vampire is a whole vibe."—Alicia Thompson, national bestselling author of Love in the Time of Serial Killers

"Jenna Levine's sensational debut has everything I want in a romcom - delightfully wry humour, a warm heart, and an utterly adorable romance with the most dreamy hero ever to don a cravat. My Roommate Is a Vampire is altogether a kooky, sparkly piece of happiness."—India Holton, national bestselling author of The League of Gentlewomen Witches

"Jenna Levine delivers a fresh, charming romp full of heart and some of the best kissing scenes I've ever read. For someone whose love for both vampires and Chicago runs deep, it was an absolute delight of a novel to sink my teeth into."—Isabel Cañas, national bestselling author of The Hacienda

"My Roommate Is a Vampire is a delicious, delightful love story - whimsical, magical, and hilarious, with enough heart to make readers cry and enough heat to make them melt. It's an ode to love in all its forms - romantic love, but also the love of friends, the love of art, and the process of learning to love yourself. Cassie is warm-hearted, chaotically horny, and so relatable, and Frederick J. Fitzwiliam is the exquisitely dressed cinnamon roll vampire of my dreams. This is an incredible debut, and I can't wait to read whatever story Levine tells next!"—Sarah Hawley, author of A Witch's Guide to Fake Dating a Demon

"If the world is against Frederick J. Fitzwilliam, then I am against the world. Wildly entertaining, delightfully steamy, laugh-out-loud hilarious, wrenchingly romantic, Levine's debut folds a charming cast of characters into a deftly written supernatural love story for the ages. Don't miss the chance to sink your teeth into this!"—Thea Guanzon, author of The Hurricane Wars

"My Roommate Is a Vampire is a breezy, clever romp that will leave you laughing so loud you could wake the undead. Jenna Levine is a permanent auto-buy for me."—Elizabeth Davis, author of I Love You, I Hate You and The Player Next Door

"Sweet, cozy romance that isn't scary or spooky, but just very charming."—Town & Country

"A wonderful and entertaining paranormal romance that begs for a sequel."—New York Journal of Books

"Levine clearly had fun writing this lighthearted and memorable addition to the paranormal-romance genre, and lucky us, she invites readers along for the ride."—Washington Independent Review of Books

"This humorous debut from Levine is perfect for readers who enjoy the roommates-to-romance trope and a dash of sexy vampire."—Library Journal (starred review)

"From the dryly witty notes Cassie and Frederick leave for reach other to the cast of quirky and endearing secondary characters, everything about this sneaky, sweet, otherworldly rom-com is a delight."—Booklist (starred review)

"This adorable odd couple proves easy to root for, with Frederick's awkwardness navigating modern life adding both humor and pathos…This one is good to the last drop."—Publishers Weekly