Book of Virtues (Hardcover)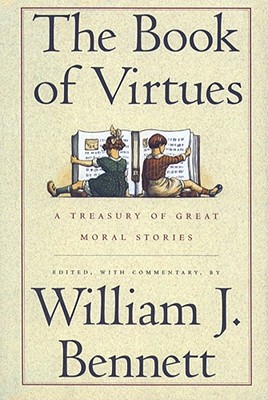 $42.00

Not in Store - Available for pick up in 1-3 days - Usually Ships in 1-5 Days
Description
---
Responsibility. Courage. Compassion. Honesty. Friendship. Persistence. Faith. Everyone recognizes these traits as essentials of good character. In order for our children to develop such traits, we have to offer them examples of good and bad, right and wrong. And the best places to find them are in great works of literature and exemplary stories from history.
William J. Bennett has collected hundreds of stories in The Book of Virtues, an instructive and inspiring anthology that will help children understand and develop character -- and help adults teach them. From the Bible to American history, from Greek mythology to English poetry, from fairy tales to modern fiction, these stories are a rich mine of moral literacy, a reliable moral reference point that will help anchor our children and ourselves in our culture, our history, and our traditions -- the sources of the ideals by which we wish to live our lives. Complete with instructive introductions and notes, The Book of Virtues is a book the whole family can read and enjoy -- and learn from -- together.
About the Author
---
William J. Bennett served as Director of the Office of National Drug Control Policy under President George H. W. Bush and as Secretary of Education and Chairman of the National Endowment for the Humanities under President Reagan. He holds a BA in philosophy from Williams College, a doctorate in political philosophy from the University of Texas, and a law degree from Harvard. He is the author of bestselling books such as The Educated Child, The Death of Outrage, The Book of Virtues, and the two-volume series America: The Last Best Hope. Dr. Bennett is the former host of the nationally syndicated radio show Bill Bennett's Morning in America and the current host of the popular podcast, The Bill Bennett Show. He is also the Washington Fellow of the Claremont Institute and a regular contributor to CNN. He, his wife, Elayne, and their two sons, John and Joseph, live in Maryland.