The PTSD Breakthrough: The Revolutionary, Science-Based Compass RESET Program (Paperback)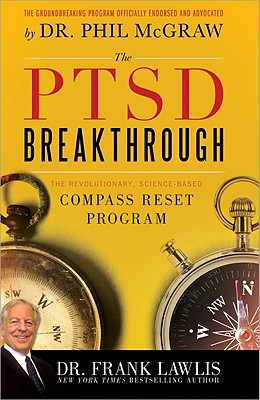 $15.99
Email or call for price.
Description
---
The first book about PTSD to provide a fully integrated approach to healing post traumatic stress disorder based on scientific, psychological, spiritual, and biological solutions.
PTSD is not just a problem for our soldiers and their families alone. PTSD is considered an anxiety reaction to trauma of any kind. It can truly happen to anyone. PTSD was previously treated as a psychiatric disorder only, but new scientific research shows that biological factors play just as important a role, and it's so much more than simply healing anxiety and depression.
He has developed a program for PTSD that provides clear, action-oriented steps based in science that you can take to rid yourself or a loved one of the demons of PTSD. Furthermore, many of the healing approaches can be done in the comfort of your home and are self-directed.
Trauma recovery and its impact on mental health are critical to anyone suffering from PTSD, including veterans and those suffering from childhood trauma. And the research uncovered by Dr. Lawlis and his colleagues and the treatment plan he presents in this book offer new hope for those who are afflicted.
Praise for The PTSD Breakthrough:
"Dr. Lawlis has done it again! His latest book offers new hope for PTSD sufferers and their families with approaches that can be used at home where the real problems occur and persist. There is a great deal of insight, strategy, and inspiration for anyone who is dealing with these horrific challenges toward the satisfied life they deserve. A must-read for every member of a family touched by PTSD." —Dr. Phil
"Dr. Frank Lawlis, one of the most gifted and prolific contributors in modern psychology, delivers in The PTSD Breakthrough a highly readable, scientifically grounded, balanced approach to PTSD, zeroing in on the damaging effects of trauma to the brain psyche, and spirit." —John Chibran, PhD, ThD, Harvard Medical School, and the author of What's Love Got to Do with It: Talking with Your Kids About Sex
"As a nurse educator, coach, author, and consultant, Dr. Frank Lawlis's timely book on PTSD truly addresses the deep-rooted problem beneath the symptoms and syndrome. His innovative and practical guidelines allow the individual to once again achieve high-level wellness with new penetrating insights and compassion for self in the healing journey." —Barbara Dossey, PhD, RN; International Co-Director, Nightingale Initiative for Global Health; Co-Director, International Nurse Coach Association; Author of Holistic Nursing: A Handbook for Practice (5th ed.) and Florence Nightingale: Mystic, Visionary, Healer
"Much is being written about post-traumatic stress disorder. But if you want a book that looks at the disorder from a new perspective, and explains it and its treatment in a way that both patient and practitioner can understand, this is the book for you." —John Roitzsch, PhD, Medical University of South Carolina, VA Medical Center
About the Author
---
Dr. Frank Lawlis is a renowned psychologist, researcher, and counselor with more than thirty-five years' experience, and is a fellow of the American Psychological Association. Dr. Lawlis is the cofounder of the Lawlis Peavey Psychoneuroplasticity (PNP) Center and is the chief content advisor for the Dr. Phil show and The Doctors.