Nature Art Workshop: Tips, techniques, and step-by-step projects for creating nature-inspired art (Paperback)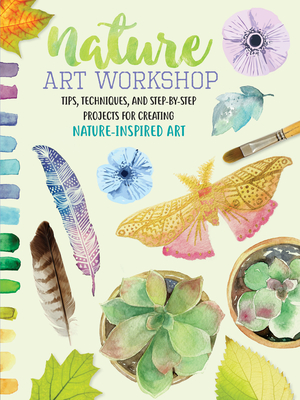 $19.99
Email or call for price.
Description
---
Nature Art Workshop is a visual resource for any artist or crafter desiring to combine their artistic talents with their love of the natural world. Each page engages, inspires, and encourages artists to see the world around them in a new light while they learn to create their own nature-inspired art.
 
Four talented visual nature artists guide readers through finding and prepping traditional media and natural elements to use in creating fun and unique nature-inspired projects following simple step-by-step instructions. Projects include a pressed-flower ceramic dish, fresh floral crown, and flower-adorned candles, in addition to painted feathers, stones, shells, leaves, and more. Valuable art tips and techniques offer guidance during the artistic process. 
 
A fun, refreshing approach to mixed-media art, Nature Art Workshop proves that you can turn anything into a stunning work of art with the right materials and a bit of imagination.
About the Author
---
Katie Brooks' home in rural North Carolina is made up of forests and pastures that she spent her childhood exploring. It's those early experiences that have heavily influenced her identity as an artist. Katie works with clay, acrylic and watercolor paint, wood, found objects, graphite, and colored pencil. She sells her painted sea shells, stones, and feathers, among other goods, in her Etsy shop, Wanderin' Whipporrwill, as well as at local art shows. Learn more at www.KatieBrooksArt.com.
Having grown up in rural eastern Oregon, Sarah Lorraine Edwards has always been in love with the natural world. She took her innate design abilities to Gonzaga University, where she received a Bachelor of Arts in Art. Sarah has explored many art forms over the years, but when she started designing with nature she knew she had found her true love. She currently lives in Spokane, Washington. Learn more at www.sarahsmilescreations.com.
 
Allison Hetzell runs her handmade business, By the Rock and Weed, from her home in Cincinnati, Ohio, where she sources the natural materials she often uses in her work. From free-fallen trees and branches in the woods for wood slice art to the rocks she collects from rivers and creek beds for painted stones, she loves making pieces that are inspired by nature, celebrate nature, and are made from nature, that she hopes help others feel more connected to the earth. Learn more at www.bytherockandweed.com.
Mikko Sumulong is a crafter, writer, weaver, and typeface designer living in Anchorage, Alaska. She is the artist and voice behind the I Try DIY blog. Her handwritten fonts have appeared on book covers, billboards, and movie trailers. Mikko teaches private pressed flower art workshops and has been featured on Craftgawker and Cut Out & Keep. Find out more at www.itrydiy.me.