The Pushcart Prize XXXVIII: Best of the Small Presses 2014 Edition (The Pushcart Prize Anthologies #38) (Hardcover)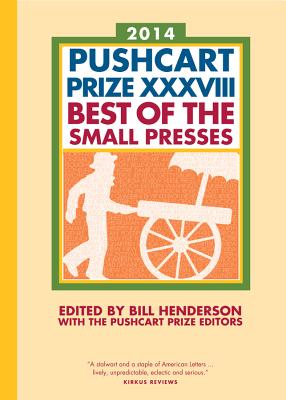 $35.00
Email or call for price.
Description
---
"A stalwart and staple of American letters." Kirkus Reviews
Winner of honors from the National Book Critics Circle, Publishers Weekly, Poets & Writers / Barnes & Noble and others, and acclaimed by readers and reviewers internationally, The Pushcart Prize series continues to be a testament to the flourishing of American fiction, essays, memoirs and poetry in our small, independent presses. As commercial publishers consolidate into a few profit-driven conglomerates, small presses encourage literature that is lasting, important and exciting.Edited with the assistance of over 200 distinguished Contributing Editors – including Guest Poetry Editors Patricia Smith and Arthur Sze – this volume includes over 60 fascinating works selected from thousands of nominations and hundreds of presses, a complete roster of today's outstanding non-commercial publishers.As David Ulin, Los Angeles Times Book Critic commented on last year's Pushcart Prize: "I've had a love of these anthologies for many years – for their diversity, their range of expression and also for their commitment to writing and publishing."
About the Author
---
Bill Henderson is the founder and editor of the Pushcart Prize. He received the 2006 National Book Critic Circle's Lifetime Achievement Award and the Poets & Writers / Barnes & Noble Writers for Writers Award. He is also the author of several memoirs, including All My Dogs: A Life. The founder of the Lead Pencil Club, Henderson lives on Long Island and In Maine where he runs the Pushcart bookstore – "the world's smallest bookstore."

More than 200 Contributing Editors and CO-Editors help select the annual volumes of The Pushcart Prize. The Pushcart Prize Editors come from almost every state in the USA and around the world. Every year more than 8,000 nominations are received for the Pushcart Prize.
Praise For…
---
With large publishing houses facing an uncertain future, the Pushcart Prize is more valuable than ever in highlighting the unique voices thriving in America's small presses.
— Publishers Weekly