Harry Potter y las reliquias de la muerte (20 Aniv. Hufflepuff) / Harry Potter a nd the Deathly Hallows (Hufflepuff) (Hardcover)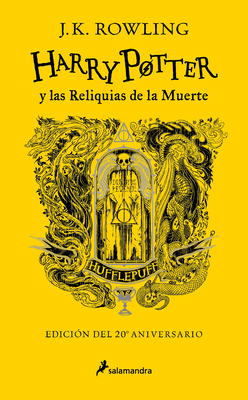 $27.95

Not in Store - Available for pick up in 1-3 days - Usually Ships in 1-5 Days
Other Books in Series
This is book number 7 in the HARRY POTTER series.
Description
---
Siempre tendrás una casa en Hogwarts.

Edición del vigésimo aniversario de Harry Potter y las reliquias de la muerte.

«La clásica saga de J. K. Rowling te llevará de vuelta al Colegio Hogwarts de Magia y Hechicería.»
 
Con motivo de la celebración del veinte aniversario de la primera publicación de Harry Potter, se publican estas preciosas ediciones que rinden homenaje al carácter noble de las cuatro casas de Hogwarts. Con ilustraciones nuevas en el interior y un diseño único en las cubiertas, obra de Levi Pinfold, ganador de la Medalla Kate Greenaway, cada uno de los libros contiene material adicional exclusivo sobre cada casa.
 
Una edición única que no puedes perderte si alguna vez te has imaginado sentado bajo el Sombrero Seleccionador en el Gran Comedor de Hogwarts.

ENGLISH DESCRIPTION

Celebrate Harry Potter's 20th anniversary with this special edition of Harry Potter and the Deathly Hallows.

WEAR YOUR HOGWARTS HOUSE COLORS WITH PRIDE!

It all comes down to this – a final faceoff between good and evil. You plan to pull out all the stops, but every time you solve one mystery, three more evolve. Do you stay the course you started, despite your lack of progress? Do you detour and follow a new lead that may not help? Do you listen to your instincts, or your friends?

Lord Voldemort is preparing for battle and so must Harry. With Ron and Hermione at his side, he's trying to hunt down Voldemort's Horcruxes, escape danger at every turn, and find a way to defeat evil once and for all. How does it all end? Find out in Harry Potter and the Deathly Hallows.
About the Author
---
J.K. Rowling es autora de los siete libros de la famosa saga de Harry Potter. Amada por lectores de todo el mundo, la serie ha vendido más de 500 millones de ejemplares, se ha traducido a ochenta idiomas y ha inspirado ocho películas de enorme éxito de taquilla.

Ha escrito asimismo tres volúmenes complementarios con fines benéficos: Quidditch a través de los tiempos, Animales fantásticos y dónde encontrarlos (en beneficio de Comic Relief y Lumos), y Los cuentos de Beedle el Bardo (en beneficio de Lumos), así como el guión inspirado en Animales fantásticos y dónde encontrarlos, la primera de una serie de cinco películas que escribirá la autora. También colaboró en una obra, Harry Potter y el legado maldito, Partes Uno y Dos, que se estrenó en el West End de Londres en el verano de 2016.

En 2012 creó la plataforma digital Pottermore, donde sus fans pueden disfrutar de noticias, reportajes y artículos, así como de contenido original escrito por J.K. Rowling. Asimismo, ha escrito la novela para adultos Una vacante imprevista, y, con el seudónimo Robert Galbraith, la serie de novelas policíacas protagonizadas por Cormoran Strike.

Ha sido galardonada con numerosos premios, entre ellos la Orden del Imperio Británico por su contribución a la literatura infantil y la Orden de los Compañeros de Honor, la Orden de la Legión de Honor de Francia y el Premio Hans Christian Andersen.